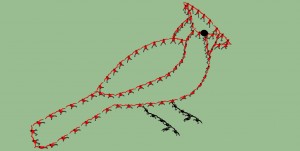 Here's a news release about 2010 Winter Games' People Project
"ArtsLIVE People Project – Chad Branham's cardinal will sing at Iowa Lakeside Laboratory during Okoboji's 30TH Annual Winter Games.
The third time is the charm. The first year it was a turtle, last year a dragonfly, and for the third annual ArtsLIVE People Project it will be a cardinal.
Chad Branham will design the hundred-foot bird on Saturday, January 30, on the ice in Miller's Bay at Iowa Lakeside Laboratory. This ephemeral art project will line people up on the ice in the shape of a local aerial favorite. His design will take over 100 people to complete. Once everyone is in place the cardinal will be photographed from an airplane by Judy Hemphill. Participants are asked to come to Peace Corner at 11:00 a.m. and ride a bus to the project site at Iowa Lakeside Laboratory.
People are encouraged to dress warmly and, if possible, to dress in red. "Even if you don't have a red coat, you can bring a red towel and throw it over your shoulders." said Branham, "Just come and have fun. And if you can whistle like a cardinal, you will get to be in the beak." For information about participating in this year's ArtsLIVE People's Project go to their website at artslive.com. The photo will be taken at noon this year, so that people can participate in more of the Winter Games activities.
Chad currently works at Bogenriff's Glass Studio in Spencer. This summer he was the Lead Set Dresser on the independent horror film "Underground" shot in the old Maytag factory in Newton Iowa. He and his wife Marta Barnard are the co-directors of Willow River Arts, an outreach art organization that brings theatre, dance and film to schools and organizations in the mid-west."