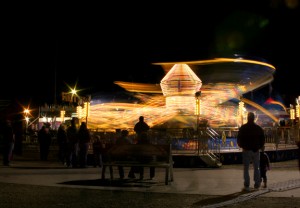 The 2009 Clay County (Iowa) Fair, the World's Greatest County Fair, is just around the corner. The dates are Sat., Sept. 12, through Sun., Sept. 20.   To what are you looking forward to most?
This composite image was one of my more time-consuming ones.  The man and boy on the right are from a separate, much brighter, image.  The challenges were to get the light balanced and shadows faded.  I hope you enjoy the captured energy.
It's heart-warming to see families enjoying many aspects of the fair.  Here's to your first bag of 2009 Tom Thumb Donuts!
Prints of the Clay County Fair are available at Arts on Grand, Spencer IA.